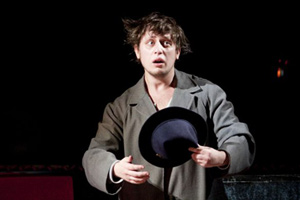 In one of the best scenes in Levitin's show, Stanislav Sukharev argues over the philosophical properties of a hat.

Yevgeny Lyulyukin / Wingwave.ru
There are writers who hide from their public for years, for decades and maybe even for centuries. Nikolai Erdman is one of them.
He was one of the most important playwrights and screenwriters of the 1920s, helping Soviet theater and cinema get on their feet. He wrote plays for the great theater director Vsevolod Meyerhold and scripts for the fashionable film director Grigory Alexandrov. He was a poet, the author of popular comic sketches, circus routines and song lyrics.
However, Erdman was arrested in 1933 and exiled for writing "anti-Soviet" texts. He never rose to public prominence again.
He died in Moscow in 1970, a virtual unknown. His famous 1925 play "The Warrant" had been staged only once in the last 45 years — his masterwork, "The Suicide," was first staged in Sweden only months before his death. Most of the writing he did for cinema was semi-anonymous, while the sketches and routines that were so popular in the 1920s naturally disappeared.
Today the world knows Erdman as the author of "The Warrant" and "The Suicide." Experts may know him as the screenwriter for Alexandrov's "Jolly Fellows" and "Volga-Volga," two of the most popular Russian musical comedies in history. But few know anything about the two or three dozen other films made from his scripts.
All of this leads directly into Mikhail Levitin's "Who Wrote This Nonsense?" at the Hermitage Theater.
Levitin, a connoisseur of all things eccentric, put together a rag-tag show of snippets and scraps drawn from Erdman's oeuvre. Woven into scenes drawn from sketches, fables and even Erdman's personal correspondence are several monologues from "The Suicide." Although the show runs over three hours, it moves quickly because it is broken down into about two dozen separate sections.
The result is a show that says much more about Levitin than about Erdman. Levitin's eclecticism, his love of absurdities, his flirtations with "lowly" cabaret or music-hall aesthetics are all here in force. What I saw little of was Erdman.
Things begin on a promising note when two clown-like figures emerge to haggle over the philosophical properties of a hat. These are Stanislav Sukharev and Viktor Nepomnik performing an interlude that Erdman wrote for a production of "Lev Gurych Sinichkin" at the Vakhtangov Theater in the 1920s. It has all of the paradox, twisted logic and lyricism that Erdman built into all of his works. The actors give it an affectionate reading.
From there on out, however, the show's successes are more checkered.
Most suspect are the excerpts from "The Suicide," with Yevgeny Kulakov performing the character of the supposedly suicidal Semyon Podsekalnikov. Funny, unsettling and tragic in the original play, these scenes struggle to make sense as comic sketches presented completely out of context.
The unevenness of the production is exemplified in its longest segment, a parodical piece called "Othello, or, The Stomach Incision," originally written for the Satire Theater in the early 1930s. As long as the scene clings to Shakespeare's text, it is ineffectual at best. Only when the story is turned over to a hapless doctor (Irina Bogdanova) trying to heal a sick worker does Erdman's natural mix of wacky comedy and lyricism come into focus.
Among the reasons for Erdman's arrest were several pungent, satirical fables written with his friend Vladimir Mass in the early 1930s. They spoofed everything from food shortages and modern sexual mores to the work habits of Josef Stalin. These were so popular at the time that they went viral in Moscow, to use a pithy, contemporary term.
Levitin works several of them into his show by having a quartet of men in tuxes recite them in unison with a great deal of pomp and irony.
Scenes are often tied together by the pianist Andrei Semyonov, who helps the actors remember their lines when they "forget" them and lends his tinkly tunes to song and dance routines.
Designer Harry Hummel pulled a large chunk of seats out of the middle of the auditorium, allowing for performances to take place among the audience, and he erected a cheap, amateur-looking platform and curtain in the middle of the stage. The problem with "imitation cheap" is that it is often hard to tell from the real thing. The setting often makes this show look like it was thrown together without much thought.
If you have never heard of Nikolai Erdman, "Who Wrote This Nonsense?" will likely not encourage you to learn more.
"Who Wrote This Nonsense?" (Kto Avtor Etogo Bezobrazia?) plays Sun., March 19 and 28 at 7 p.m. at the Hermitage Theater, located at 3 Karetny Ryad. Metro Chekhovskaya. Tel. 650-2076, 650-6742. www.ermitazh.theatre.ru. Running time: 3 hours, 10 minutes.