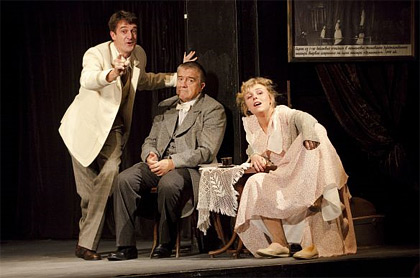 Sergei Tuptalov / Hermitage Theater.
Mikhail Filippov, center, is a revelation as the disenchanted Nikolai Stepanovich in the Hermitage Theater's show.
Every production byáaágood director isásomething ofáaáconfession. Even so, onárare occasion aáshow comes along that isáaádirector's particularly intimate, yet very public, statement about matters ofáprofound personal concern.
In recent years, Iáhave seen this phenomenon ináMark Zakharov's ôThe Executioner's Lamentô atáthe Lenkom Theater and Kama Ginkas' ôRothschild's Fiddleô atáthe Theater Yunogo Zritelya. Toáthem Iáwould now add Mikhail Levitin's production ofáôThe Secret Notes ofáaáSecret Counselorô atáthe Hermitage Theater.
ôSecret Notesö isáaádramatization ofáAnton Chekhov's novella, "AáBoring Story.ö Levitin, however, isáanáeccentric artist who loves toáplay with chaos. Itáisánoásurprise, therefore, that heásews phrases from the play, "The Seagull,ö and aáchunk from the short story, "Enemies,ö into the fabric ofáhis show.
The tale that heátells isáofáaárenowned and aging medical professor. Itáisábad enough that the doctor feels death looming, but every bit asáaggravating isáthat heáisáwracked byáaáloss ofáinterest ináalmost everything toádoáwith the human experience. Students, colleagues, loved onesᗠall disappoint him with their petty requests and their lack ofáwits.
The professor isánoáeasier onáhimself. Heáknows his balding head, his mouth full ofáfalse teeth and the nervous tick that attacks him inámoments ofástress are signs that heáisábarely aáshadow ofáwhat heáonce was. All that remains isáhis belief ináscienceᗠôScience isálove,ô heádeclares atáone point.
Theater, however, asáalways ináaáLevitin production, isáalso aámajor topic ofádigressive discourse. Itáisásomething that the professor doesn't love oráunderstand, although heácannot escape it, either.
To play the role ofáProfessor Nikolai Stepanovich, Levitin invited Mikhail Filippov toátake aábreak from his schedule atáthe Mayakovsky Theater and join the company ofáthis show. Filippov isáaárevelation asáthe dignified, intelligent but tortured man.
There isáaámoment atáthe show's end that flashes light onáeverything that has preceded it, including the nature ofáFilippov's performance.
Alone ináaáhotel room, far from all that means anything toáhim, Nikolai Stepanovich admits that never before was heáôable toámake peace with the slowness ofátimeö asáheáisánow. "The last few months, asáIáhave waited for death, seem toáhave lasted longer than myáentire life,ö heádeclares.
The slowness ofátime, the interminable waiting, and the sense ofáquiet and stillness that accompany them, are what inform Filippov's interpretation ofáthe doctor. Aside from some brief emotional explosions, the actor keeps his character under control atáall times, speaking ináaáhushed voice, moving about the stage with excruciatingly slow deliberation, and revealing his innermost thoughts through his eyes and facial expressions.
Designer Harry Hummel reflected the doctor?s world ináaásimple set dominated byáaásemicircular backdrop ofáLeonardo DaáVinci's landscapes, medical and artistic drawings.
The aging doctor isásurrounded byámany who want much from himᗠorásoáheáconcludesᗠalthough some have his best interests atáheart.
His porter Nikolai (Yury Amigo) isáone ofáthose whose lives are centered onáserving someone greater. Heácarries the famous man's umbrella, brings him water during lectures and occasionally speaks Latin asáproof that heáisádeserving ofáhis master.
But itáisáKatya, the young daughter ofáNikolai Stepanovich's late friend, who isátruly the doctor's last link toálife. She has been his ward for years and their friendship isásoádeep that both surely suspect that they may beáinálove.
As performed byáOlga Levitina, Katya isáboth tender and demanding with her benefactor. Her interest inátheater and art isámet with his indifference toáthe topic, although that only brings them closer, toáthe jealousy ofáhis wife Varya (Darya Belousova) and daughter Liza (Lyudmila Kolesnikova).
Levitin repeatedly inserts ruminations onáthe nature ofátheaterᗠits clumsiness, its failures and its lofty aspirationsᗠinto this work about life slowly giving way toádeath.
Are there too many ofáthese digressions? Probably. Doáthey often undercut the main story? Yes. Would itábeáaáLevitin production without them? No.á
ôThe Secret Notes ofáaáSecret Counselorô isáatátimes exquisite and atátimes maddening. But byáthe time that itáisáover, you feel asáthough you have been privy toáaásecret confession. And there isásolemnity and magic ináthat.